What Do Beach Warning Flags Mean?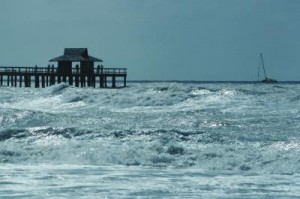 You're all packed for a day at the beach. You've got sunscreen, a beach chair and a good book, and you're looking forward to a day in the sun and surf. When you arrive at the beach, though, it's lined with red flags. The United States Lifesaving Association, in conjunction with the International Lifesaving Federation, has developed a flag warning system that has been adopted by coastal communities worldwide to notify beachgoers of potential water hazards. Understanding and heeding these colored flags keeps you safe in the water and helps you enjoy your trip to the Beach.
Red Flags
The most serious of all beach warning flags, red flags warn swimmers of serious hazards in the water. One red flag means that the surf is high or there are dangerous currents, or both. Though you can still swim if there is a red flag, you should use extreme caution and go in the water only if you're a strong swimmer. Two red flags, however, means that the water is closed to swimming, as conditions are too dangerous for even the strongest swimmers. In some communities, red flags feature the symbol of a swimmer with a white line through it, indicating that swimming is prohibited.
Yellow Flags
When ocean conditions are rough, but not life-threatening, you might see an yellow flag on the beach. A yellow flag indicates potentially high surf or dangerous currents and undertows, and means that swimmers should exercise extreme caution. If there is a yellow flag, swim only near lifeguards and heed all lifeguard warnings. If you're swimming with children, or you aren't a strong swimmer yourself, wear a life jacket when swimming on yellow-flag days. Some beaches have a permanent yellow flag because of rocks, a sudden drop-off or a high population of bait fish that attracts predators.
Green Flags
The ocean is always unpredictable, and even on clear and calm days, hazards still exist. Still, there are days when the threat of danger is lower than others. A green flag on the beach is an all-clear sign, indicating that it's safe to swim. Even when the flag is green, though, exercise caution in the ocean, listen to lifeguard warnings and keep a close eye on children.
Blue and Purple Flags
Sharks, jellyfish and other dangerous marine life can turn a fun day at the beach into an unpleasant day at the hospital — or worse. When potentially dangerous ocean animals have been spotted, you'll see a dark blue or purple flag. These flags fly either on their own or with other colored flags. If you see a blue or purple flag, but the water is not closed to swimming, use extreme caution and keep a close watch for dangerous animals.