The Water Safety for Parents and Caregivers Online Course focuses on developing an awareness of the risks of drowning and how to minimize those risks, especially for young children. This online course teaches parents and caregivers about the concepts of the circle of drowning prevention, water competency and the chain of drowning survival. It also provides guidance for applying water safety to common environments and situations where children are most at risk for drowning.
Don't let your trash become marine debris!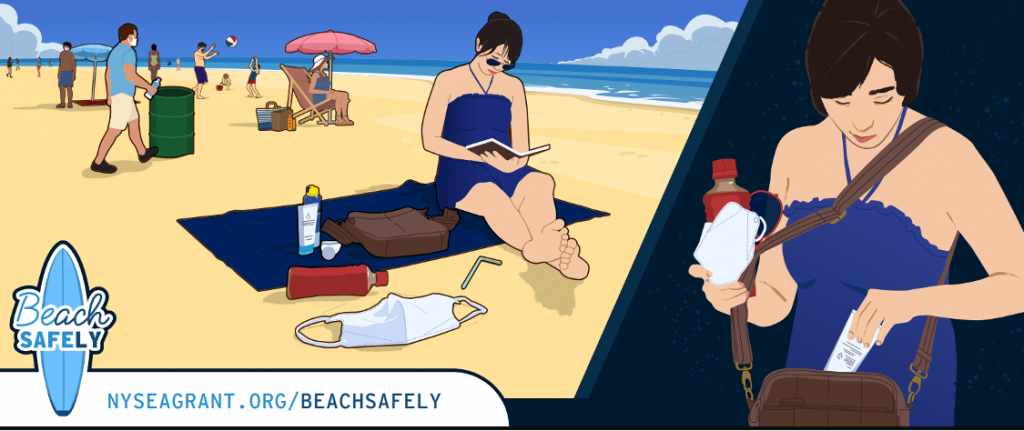 Marine debris, as defined by NOAA's Marine Debris Program, is any manufactured solid material that is intentionally or unintentionally disposed of or abandoned into the marine system. Marine debris can originate at the beach or make its way to the ocean from inland areas being carried by water or wind; it persists in the marine environment and causes harm to plants and animals.
If you remove your personal protection equipment, be alert and aware that it doesn't blow away and land in the ocean. Make sure to always "carry in and carry out" and dispose of your trash in appropriate receptacles. When at the beach, please only leave your sandy footprints behind!
Pay Attention to Lifeguards!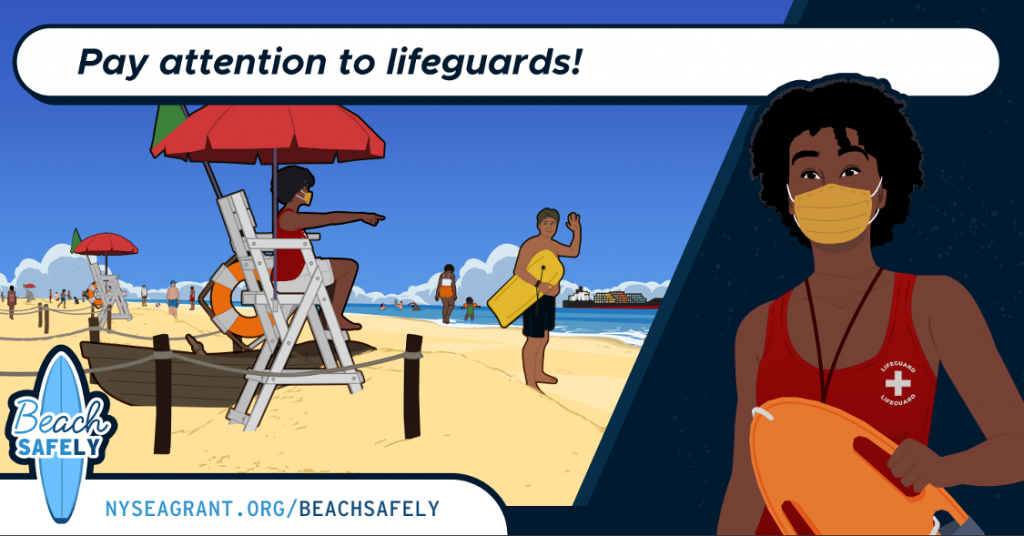 Lifeguards work to protect beachgoers from ocean-related hazards, such as rip currents. In fact, according to the United State Lifesaving Association (USLA), the chance of drowning at a lifeguarded beach is approximately 1 in 18 million.
Therefore, it's important to always swim near a lifeguard and listen to their warnings!
When you arrive at the beach, check with a lifeguard if you are unsure where you can or if it is safe to swim.
Flags may be flown at the beach that express different hazards or designate swimming areas that may change from time to time; if you are unsure of their meanings, ask a lifeguard!
While enjoying the beach, please remember that there are many hazards to consider – a nice day can quickly turn dangerous or even deadly!
Be a water watcher!
Be aware of your surroundings and pay attention to those you are with, particularly small children or those who are poor swimmers. By doing this, you can react more quickly if a situation were to occur.
Break the Grip of the Rip
Rip currents are one of the deadliest beach hazards. They occur as ocean water moves swiftly away from the shore.
If caught in a rip, the most important thing is to remain calm! Wave or call for help, "flip" onto your back and "float" rather than fighting against the current, and "follow" as it takes you to calmer waters where it dissipates and you can swim safely to shore.
If you notice someone else in danger, do not try to save them yourselves. Instead, maintain visual contact with the victim and send another beachgoer to get help, find a lifeguard, or call 9-1-1.